Skip to main content
Please note: The name 'Bensons' stamped into the mechanism of a ring binder does not mean that the binder itself was made by Bensons. This is the name of the most widespread mechanism manufacturer, whose products are incorporated into a lot of our ring binders. This is often misread as 'ensons' as the 'B' is a logo.
Ring binders, also termed loose leaf binders or folders, are offered by us in two types of plastic, PVC or polypropylene, in A3, A4, A5, A6, A7, American Quarto (also known as US letter size) or other special sizes. We make and stock presentation binders in PVC, polypropylene binders in frosted clear, and can produce you all sorts of printed or special binders.



Our polypropylene binders are cut and creased from 750 micron or 1100 micron sheeting. We have stock sizes in A7, A6, A5, A4, A3 and American Quarto. In A5, A4 and A3 we stock landscape format as well as portrait.
Our PVC ring binders are manufactured from flexible PVC sheeting over board stiffener, welded around the edges with rounded corners and spine welds for easy folding. Our binder stocks are stored flat and then plated steel mechanisms (generally 2, 3 or 4 ring) are riveted through the rear cover ('D' shaped rings) or spine (round rings) using two or three rivets according to the size of the mechanism. All binders are well packed for transit.

For general interest, PVC′s starting materials are derived from 43% oil and 57% salt!
Stock Binders - PVC Presentation Binders (White)
The type of ring binders which we manufacture for stock are commonly known as 'Presentation' binders. These have pockets on the front and spine which are open at the top for you to insert title sheets. This enables you to personalise your own binders at fairly low cost, and you will be delighted to know that our stock presentation binders have a clear PVC diagonal corner pocket (approx. 200 x 150mm) as standard inside the front cover, something that most manufacturers offer only as an extra. We found that we were having to make so many otherwise standard binders as specials, in order to include a pocket for customers to put their 'odd bits and pieces' in, that we thought the sensible thing was to incorporate this in our stocked binders as standard!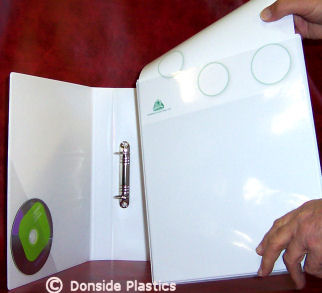 We keep the following sizes available for A4 paper: 10mm, 15mm, 25mm, 30mm, 35mm, 40mm, 50mm, and 65mm, plus 25mm and 50mm in American Quarto. These sizes all relate to the trade size of the ring inside the binder not the spine width. All presentation binders have 'D' shaped mechanisms fitted inside the rear cover, and we can rivet in 2 ring, 3 ring or 4 ring types to suit your requirements. Although our stock binder colour is white (a nice clean bright white, not 'bright grey' !), we do have other colours available at times, and would be pleased to quote for other colours made to order.

We produce A5 PVC presentation binders to order in a number of colours, generally within 7 days.
Price list for A4 stock PVC presentation ring binders.
Price list for American Quarto stock PVC presentation ring binders.
Price list for A5 PVC presentation ring binders.
Other sizes are produced to order.

OUR A6 BINDERS ARE PROVING VERY POPULAR FOR HEALTH AND SAFETY USE AS EMPLOYEE MANUALS.
We produce them to order in PVC but offer them from stock in our frosted polypropylene range.

Please refer to our polypropylene binder section (below).
Frosted Clear Polypropylene Ring Binders
We manufacture a comprehensive range of stock frosted polypropylene ring binders, in a number of sizes, capacities and material thicknesses (as appropriate for the product). A selection of A7, A6, A5, A5 landscape, A4, A4 landscape, A3 portrait and American Quarto binders are available, as listed below. The range is growing all the time, so if you don't see what you are looking for please telephone as we may be about to introduce your requirement as a standard item. These binders can be supplied plain or screen printed to order. They are not presentation binders (there are no pockets on the front or spine).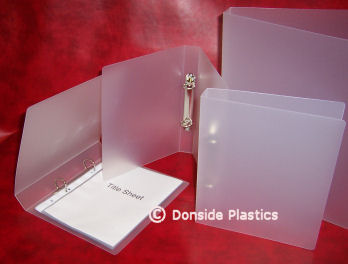 Please note that, unlike some of the polypropylene ring binders on the market, this range is (generally) sized so that standard divider sets or punched pockets will fit inside the covers of their respective ring binders. Please refer to each binder page for full details.
Click the paper size below for full listing & prices:
A3 stock portrait polypropylene ring binder price list.
A4 stock polypropylene ring binder price list.
A4 landscape stock polypropylene ring binder price list.
A5 stock polypropylene ring binder price list.
A5 landscape stock polypropylene ring binder price list.
A6 stock polypropylene ring binder price list.
A7 stock polypropylene ring binder price list.
American Quarto stock polypropylene ring binder price list.
Printed Polypropylene Ring Binders (Frosted Clear)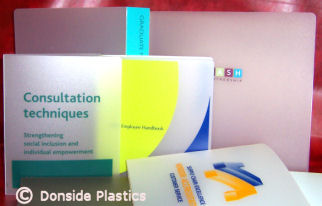 Our stock range of polypropylene ring binders can be overprinted to order.

Prices for screen printing are accessed via a link from each of the binder pages above this photograph.

Please check the listings to see if we make the size of binder you are looking for. If it is not available as standard we can quote you for a special size.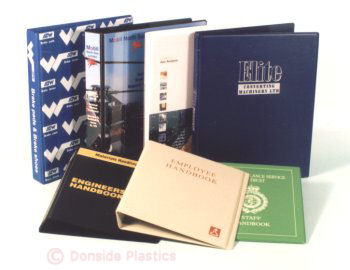 Some customised ring binders that we have produced, both screen printed and incorporating litho prints under a clear PVC overlay.
Part of our business is the production of customised ring binders, often in fairly small quantities. Some of the small quantity binder work has been lost to the 'presentation binder' idea, and many customers like our stock frosted polypropylene ring binders, but special PVC binders are still popular. With the development of litho printing onto PVC sheeting, full colour printing is now viable on runs of 500 or more.

We can produce screen printed PVC binders (many PVC colours available), or incorporate your litho printed sheets under clear PVC on the outside of binders. Effectively this is an up-market version of the presentation binder, but with the printed sheets (which need to be to specific sizes) sealed in completely during the manufacturing process, making a superb looking product where the prints are seen to fit.

As a point of helpfulness, please ask us for the positions of rivet heads (that hold in the mechanisms) when designing artwork for spines (when using round rings) or rear covers (when using 'D' shaped rings), so as to avoid the possibility of printed matter conflicting with rivet positions.

Specially produced PVC binders can incorporate extra pockets, if required, and their customised nature ensures that your company image stays with the binder, unlike presentation binders where your printed sheets are easily discarded! Please ask for a quotation - quality and your own individual image might not be as expensive as you imagine.



OUR A6 BINDERS ARE PROVING VERY POPULAR FOR HEALTH AND SAFETY USE AS EMPLOYEE MANUALS - PLEASE RING FOR DETAILS


Please note that we produce binders in the hundreds (including under 100) or low thousands only. We are not able to quote for tens of thousands of ring binders.

Showing the relationship in size of 'D' ring mechanisms between 10mm and 65mm.